Luxury Board Game Sets: A Perfect Gift for Game Lovers
In a world where technology dominates our entertainment landscape, there is a growing movement among enthusiasts to return to traditional forms of gaming like board games. Luxury board game sets have become an appealing gift giving option for those seeking an exquisite gaming experience and a touch of sophistication.
In this blog, we will explore the full range of exquisite Nesso brand products, including the James chessboard and checker set, the Ayden backgammon sets in various sizes, and the Henry domino box, all of which make for perfect gifts for game lovers.
Whether you're looking for a new family activity or a the perfect gift for your friend, we got you covered with luxury board games from Nesso Gifts.
1. James Chessboard and Checker Set:
Luxury board games to keep game time classy and fun!
The James chessboard and checker set is the epitome of elegance and intricate craftsmanship. This stunning set features a handcrafted chessboard made from the finest woods, such as mahogany and maple, and is adorned with intricate inlays that accentuate its grandeur.
The perfectly polished wooden pieces exude a sense of luxury, making each move on the chessboard feel like playing a strategic work of art. Whether you are a novice or a seasoned player of chess, the James chessboard and checker set guarantees an immersive gaming experience that combines aesthetics with intellectual stimulation.
Chess and checkers are classic games and the friend or family member that receives this board game will be delighted. This game is exquisitely crafted and perfect to entertain guests with during game nights.
2. Ayden Backgammon Sets (Small, Medium, and Large):
Lose yourself in the Ayden Backgammon; a hand crafted, luxury board game!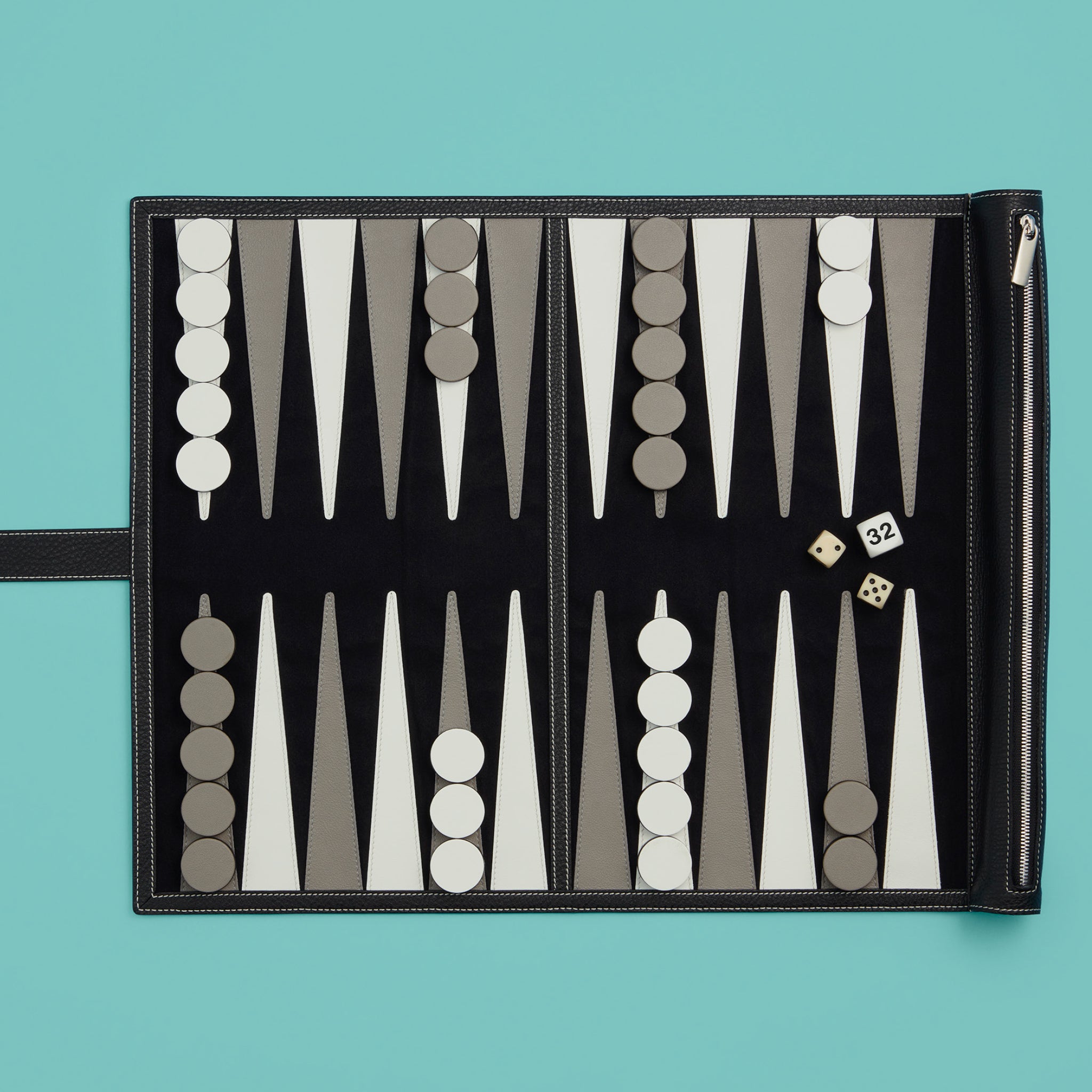 Nesso's Ayden backgammon set collection offers versatility with choices of small, medium, and large sizes, ensuring there is something for every gaming enthusiast. Hand crafted from premium leather and accentuated with beautiful stitching, each Ayden set exudes sophistication and style.
The sturdy construction of the boards for these luxury board games ensures durability, providing countless hours of intense game play. Whether played and displayed as a centerpiece or taken on the go, these backgammon sets and boards are perfect for both casual gatherings and competitive tournaments, adding a touch of class to any setting.
The perfectly designed game will compliment any room and excite and family member or friend receiving it as a gift. It will entertain them and inspire thoughts of warmth and gratitude everytime they see it in their home.
3. Henry Domino Box: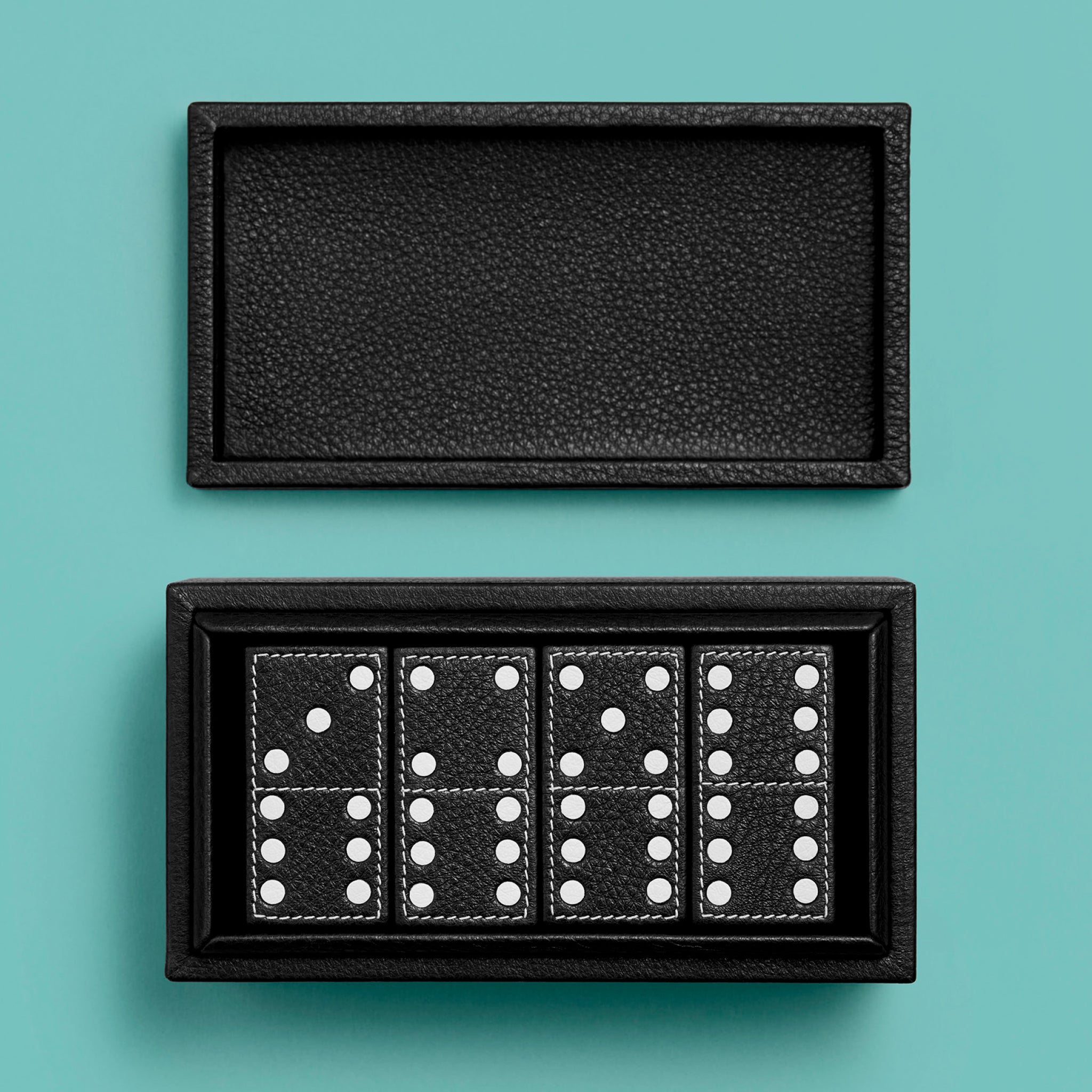 The Henry domino box by Nesso is an exquisite fusion of elegant design and timeless game play. Crafted from high-quality leather, this domino set offers a striking visual appeal, making it a stunning addition to any game collection.
Perfectly-sized and hand crafted with a superior polish, the domino pieces exude luxury and ensure a smooth playing experience. With the Henry domino box, enthusiasts can indulge in dominoes at its finest, appreciating the rich traditions of playing this classic game.
This hand crafted game is the perfect size for travel and is a fun game to have on hand to entertain your family. As one of the world's most exquisite game designs, it will quickly become a regular fixture in any home it graces.
Luxury Board Games for Your Family to Enjoy
Luxury board game sets have seen a resurgence in popularity as both a form of entertainment and a status symbol. Nesso's James chessboard and checker set, Ayden and marble and backgammon sets, and Henry domino box and poker sets perfectly exemplify the essence of luxury gaming. These exceptional products elevate and bring the gaming experience to new heights with their extraordinary craftsmanship and attention to detail.
Presenting a bespoke luxury board game set as a gift to a game lover conveys thoughtfulness and appreciation for their passion. Whether it is the strategic brilliance of chess, the excitement of backgammon, or the time-honored pleasure of dominoes, Nesso's products are designed to bring invite enthusiasts to indulge in sophisticated gameplay, offers hours of entertainment, and creates memories that will last a lifetime.
Shop Nesso's Luxury Board Game Sets Today!
If you're searching for the perfect gift for a game lover, look no further than Nesso's James chessboard and checker set range, Ayden backgammon and poker sets, and Henry domino box. By choosing luxury board game boards and sets, you are not only gifting a game but also providing an experience that embodies elegance, craftsmanship, and the joy of competitive play.